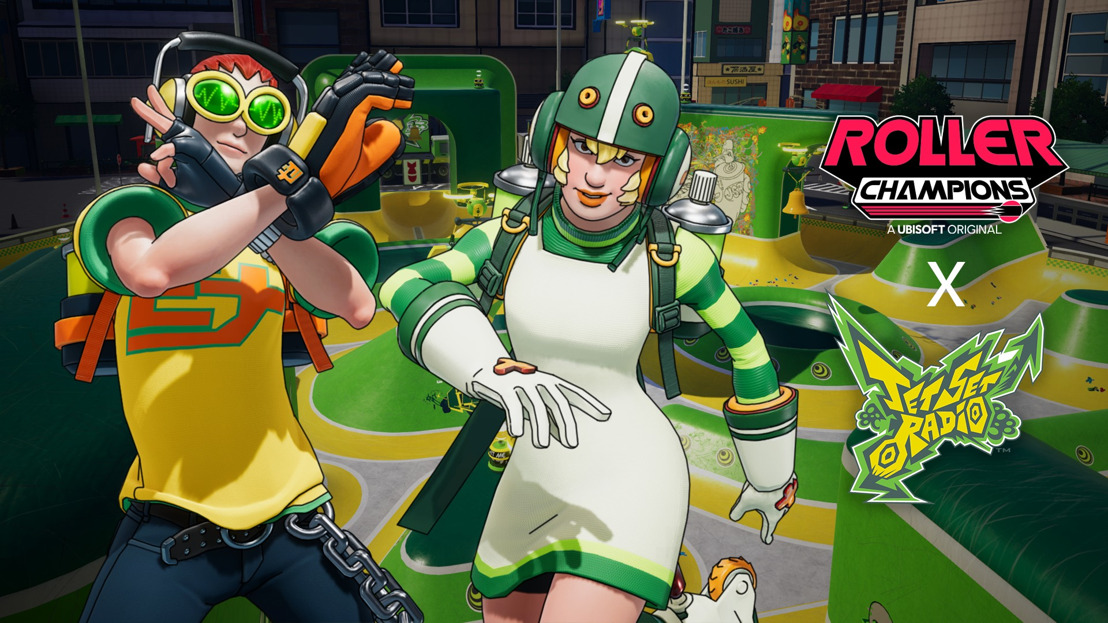 Roller Champions startet am 27. Juni ein neues Jet Set Radio Crossover Event
Mit Beat und Gum geht es in einen neu gestalteten Skatepark
Düsseldorf, 12. Juni 2023 – Ubisoft® gab heute bekannt, dass ein neues Crossover-Event für Roller Champions™ mit Charakteren aus SEGAs beliebter Jet Set Radio-Serie vom 27. Juni bis 14. Juli stattfinden wird.
Der Trailer zum Roller Champions Jet Set Radio Crossover Event kann unter folgendem Link gefunden werden:
Beat und Gum, die zwei Hauptcharaktere aus der Serie, werden in Roller Champions als spielbare Superstars auftreten. Zudem wurde der Skatepark komplett umgestaltet und als Hommage an einen bekannten Busbahnhof aus Jet Set Radio angepasst.
Außerdem können die Spieler:innen während des Events eine besondere Quest, ein Banner und ein Tor-FX entdecken. Roller Champions ist für Xbox One, PlayStation®4, Nintendo Switch™ und Windows PC über den Ubisoft Store, den Epic Games Store und Steam erhältlich. Roller Champions ist kompatibel mit PlayStation®5 und Xbox Series X|S.
Weitere Informationen zu Roller Champions gibt es unter rollerchampions.com.
Angebote zu Ubisoft Spielen gibt es im offiziellen Ubisoft Store unter:
​https://store.ubisoft.com/de/home
About Roller Champions
Roller Champions™ is a free-to-play, skill-based, team PvP sports game. It is the result of a passionate team of people, want to create a new sport, one that creates a unique new experience on the competitive scene. The game meant to entertain both players and viewers with the promise of spectacular skill-based plays and last-minute saves. RC offers speed, momentum, verticality, and above all, team play. Players will embark on a zero-to-hero journey, gaining fans as players play matches, complete sponsor contracts, and participate in skatepark activities. All of it to pursue the ultimate goal of rolling up to glory.
© 2023 Ubisoft Entertainment. All Rights Reserved. Ubisoft and the Ubisoft logo are registered trademarks in the US and/or other countries.
About SEGA CORPORATION
SEGA CORPORATION is headquartered in Tokyo, Japan, and is a worldwide leader in interactive entertainment both inside and outside the home. The company develops, publishes, and distributes a variety of games for consoles, PCs, and wireless devices, as well as developing and distributing arcade machines, merchandise, and various other products. Moreover, SEGA distributes a range of gaming content developed by its domestic and overseas studios worldwide via its global publishing bases.
SEGA CORPORATION's website is located at https://www.sega.co.jp.