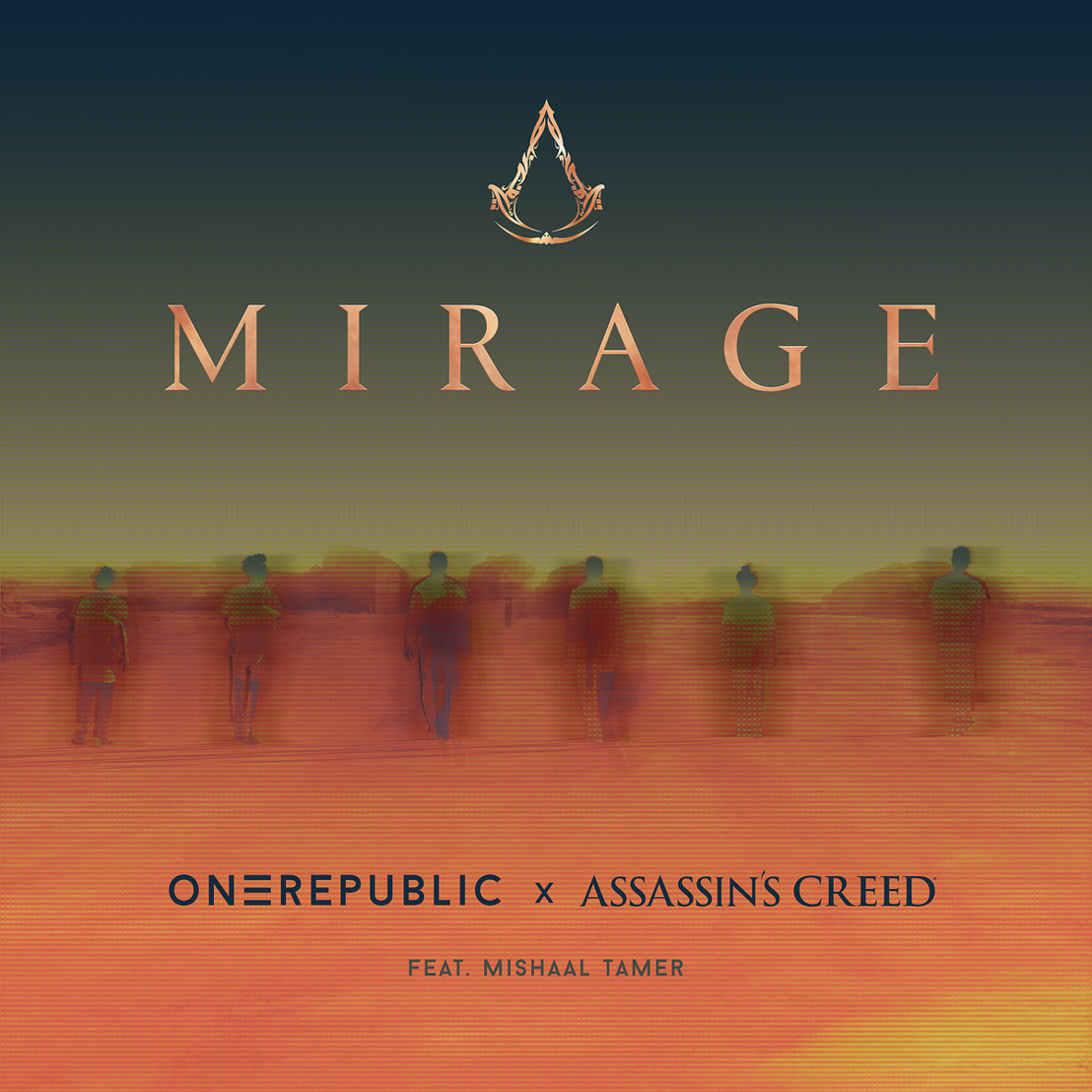 OneRepublic und Assassin's Creed® veröffentlichen Song Mirage (for Assassin's Creed Mirage) feat. Mishaal Tamer
Ab dem 22. September digital erhältlich
Düsseldorf, 20. September 2023 – Interscope und Ubisoft gaben heute den bevorstehenden Release des Songs Mirage (for Assassin's Creed Mirage) von OneRepublic featuring Mishaal Tamer bekannt. Dies ist das erste Mal, dass Assassin's Creed als Marke mit einem Top 50-Künstler ​ mit globaler Reichweite zusammenarbeitet und ein weiterer Meilenstein der musikalischen Gestaltung von Assassin's Creed nach dem Erhalt eines Grammy Awards in diesem Jahr. Die Single wird ab dem 22. September erhältlich sein.
Der Song und die Lyrics wurden unter anderem von Ryan Tedder, Songwriter und Leadsänger der Band, geschrieben und vom Spiel inspiriert. Mirage (for Assassin's Creed Mirage) beinhaltet zudem einige Samples des Originalsoundtracks von Assassin's Creed Mirage, komponiert von Brendan Angelides in Zusammenarbeit mit Layth Sidiq, Leadsänger und Violinist.
"Die meisten Menschen wissen das nicht über mich, aber meine Band und ich wir sind heimliche Spieler. Ich bin schon seit Beginn der Reihe ein großer Fan von Assassin's Creed. Nach etlichen Touren im mittleren Osten wollte ich den Geist der Region musikalisch einfachen und den Handlungsort des Spiels akustisch so authentisch wie möglich integrieren. Ich kann es kaum erwarten, bis unsere Fans und natürlich die Fans von Assassin's Creed hören können, was wir erschaffen haben. Das ist definitiv einer dieser Momente für mich, in denen man sich selbst kneifen muss, um zu wissen, dass man nicht träumt." – Ryan Tedder (Leadsänger)
Darüber hinaus brachte die Band den aufstrebenden Saudischen Künstler Mishaal Tamer mit an Bord, der bereits Opening Act für OneRepublics Tour im Sommer 2023 war. Tamers Stil ist stark von arabischer Musik der Levante, Ägypten und dem Arabischen Golf, aber auch K-Pop, Indie Rock und Urban Latino inspiriert.
"In einem Song mit meinen musikalischen Vorbildern zu sein, der gleichzeitig Soundtrack zu meinem Lieblingsvideospiel ist, das ist ein wahr gewordener Traum. Ich fühle mich geehrt Teil dieser wundervollen Zusammenarbeit mit OneRepublic und Assassin's Creed zu sein.
Ein Pre-Save zur Single ist hier erhältlich: https://onerepublic.lnk.to/miragepresave
Hier gibt es den offiziellen Teaser:
Das offizielle Album-Cover zum Song kann hier heruntergeladen werden: https://www.ubisoft-press.com/download/1190352/9f60d030859b5b852bee1f2d36f0c62e7a5fa1f2
Assassin's Creed Mirage wird von Ubisoft Bordeaux entwickelt* und stellt eine Hommage an die Serie dar, insbesondere an das erste Assassin's Creed. Assassin's Creed Mirage lädt dazu ein, in das prachtvolle Bagdad des neunten Jahrhunderts einzutauchen, auf dem Höhepunkt seines Goldenen Zeitalters und bietet ein konzentriertes, narrativ getriebenes Action-Adventure-Erlebnis mit einer modernen Interpretation der Parkour-, Stealth- und Attentats-Gameplay-Elemente, jene Aspekte, die die Assassin's Creed-Marke seit über fünfzehn Jahren auszeichnen. Assassin's Creed Mirage erscheint am 5. Oktober 2023 für PlayStation®5, PlayStation®4, Xbox Series X | S, Xbox One, Amazon Luna sowie für Windows PC über den Epic Games Store und den Ubisoft Store**. Spieler:innen können auch Ubisoft+ auf Xbox, Amazon Luna und PC über Ubisoft Connect abonnieren, um am Erscheinungstag Zugriff auf das Spiel zu erhalten.
Angebote zu Ubisoft Spielen gibt es im offiziellen Ubisoft Store unter: https://store.ubisoft.com/de/home
© 2023 Ubisoft Entertainment. All Rights Reserved. Ubisoft and the Ubisoft logo are registered trademarks in the US and/or other countries.
About OneRepublic:
GRAMMY® nominated OneRepublic, is comprised of singer/songwriter and lead vocalist Ryan Tedder, guitarists Zach Filkins and Drew Brown, keys Brian Willett, bassist and cellist Brent Kutzle, and drummer Eddie Fisher. The band released their debut set Dreaming Out Loud in 2007. The release included the 20mm selling smash single "Apologize," which shattered digital sales and airplay records worldwide and received a Grammy nomination. The band's sophomore album, 2009's Waking Up, produced the hit singles "All the Right Moves," "Secrets" and "Good Life." The certified-platinum album Native followed in 2013, featuring the No.1 hit and 41 million selling single "Counting Stars." OneRepublic released Oh My My, their fourth full-length album in 2016. OneRepublic has amassed 5B streams on Spotify to date. OneRepublic's latest album, Human, dropped on August 27, 2021. It features singles, which combined have over 2.5 billion global streams: "Someday", "Run", "Somebody To Love", "Wanted", "Didn't I", "Better Days" and "Rescue Me". Most recently, OneRepublic released "Runaway," the first new track the band has released since their smash hit, "I Ain't Worried," which was featured in the blockbuster hit, Top Gun: Maverick and currently boasts over 3 Billion streams.
About Mishaal Tamer: ​
Mishaal Tamer is a Saudi singer, first-ever at the Clive Davis Institute of Recorded Music in NY. He is inspired by K-pop, Indie rock, metal, jazz, urban latino and Arab music from the Levant, Egypt, and the Arabian Gulf , creating his "S-pop", his way to share his culture to the world. He was the opening act for OneRepublic's Summer Tour 2023. Confirmed gamer, he recorded his first songs on an Xbox 360 and played all AC Games. Today, he is able to contribute to Assassin's Creed Mirage's music with OneRepublic's new single.
About Interscope Geffen A&M:
Combining the legacies of three of the most influential record labels in modern music history, Interscope Geffen A&M embarked on a new tradition of musical achievement with its unification on January 1, 1999. Headed by Chairman and CEO John Janick, Interscope Geffen A&M is a major force in global music, developing chart-topping artists across a wide range of musical genres including rock, rap, R&B, pop and alternative. Interscope Geffen A&M is part of Universal Music Group, the world's largest music company. www.interscope.com
*Associate Ubisoft studios are Montreal, Montpellier, Philippines, Singapore, Sofia, Kyiv, Odessa, Bucharest, Quebec, Belgrade, Shanghai, Craiova. 
**Assassin's Creed Mirage will be available on Ubisoft+ on day one, across Windows PC and Amazon Luna. From $14,99/14,99€. Cancel anytime. More information on https://store.ubisoft.com/de/ubisoftplus.