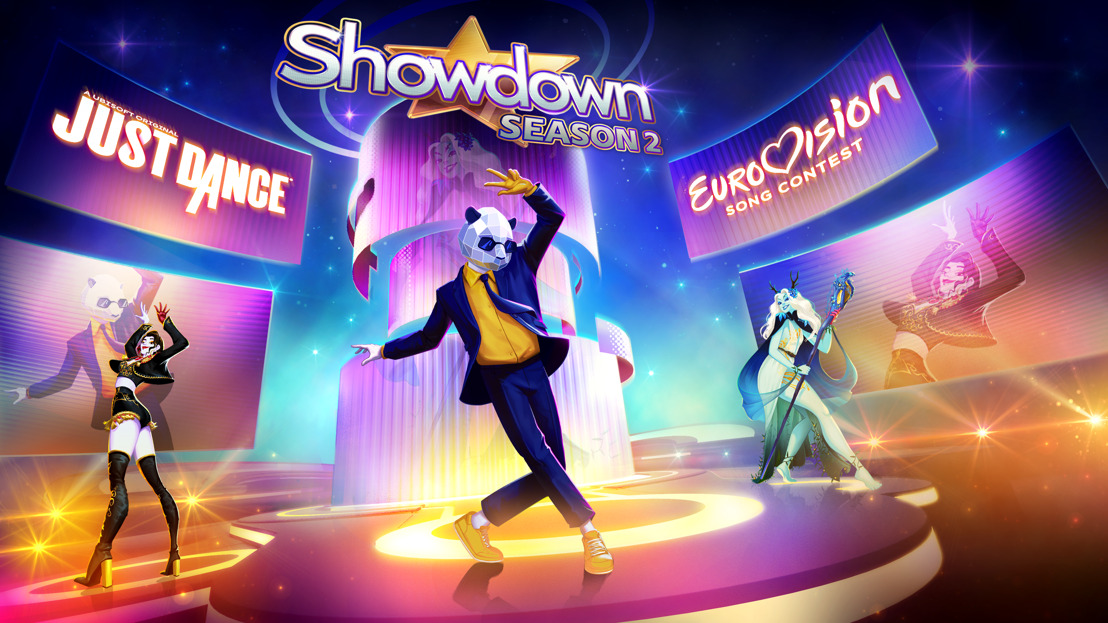 Just Dance 2023 Edition Season 2: Showdown mit dem Eurovision Song Contest gestartet
Für Just Dance+ wird es Karten und Belohnungen im Eurovision-Design sowie neue Songs und Playlisten geben
Düsseldorf, 9. Mai 2023 – Ubisoft® gab bekannt, dass Just Dance 2023 Edition in Season 2 mit dem Eurovision Song Contest kooperiert. Showdown mit dem Eurovision Song Contest startet heute am 9. Mai und bringt vier neue Karten und Belohnungen im Eurovision-Design für die Just Dance 2023 Edition, sowie ebenfalls neue Songs von früheren Teilnehmer:innen und Playlisten für den Just Dance+ Streaming-Dienst. Eine themenspezifische Playliste wird vorübergehend kostenlos in der Just Dance 2023 Edition verfügbar sein und später exklusiv bei Just Dance+ zur Verfügung stehen.
​
​Anbei folgt der Zeitplan für den Release der neuen Inhalte:
​
​Neue Eurovision-Songs: dauerhaft über Just Dance+ verfügbar
9. Mai: "Slo Mo" von Chanel

17. Mai: "Give That Wolf a Banana" von Subwoolfer

25. Mai: Überraschungs-Track

22. Juni: "Trenulețul" von Advahov Brothers und Zdob și Zdub
​
"The Greatest Show!" Playlist: verfügbar ab 9. Mai. Die Playlist ist eine Woche lang kostenlos in Just Dance und bis zum Ende der Season auf Just Dance+ verfügbar.
"Don't Stop Me Now" von Queen

"Te Dominar" von Daya Luz

"Human" von Sevdaliza

"Just Dance" von Lady Gaga ft. Colby O'Donis

"SloMo" von Chanel

"Locked Out of Heaven" von Bruno Mars

"Danger! High Voltage" von Electric Six
​
"Eurovision Song Contest" Playlist: verfügbar ab 15. Juni auf Just Dance+ bis zum Ende der Season
"Waterloo" von ABBA

"TOY" von Netta

"UNO" von Little Big

"Think about Things" von Daði Freyr

"Satellite" von Lena Meyer-Landrut

"Flash (Just Dance Version)" von Bilal Hassani mit Sulivan Gwed, Paola Locatelli und Sundy Jules

"MA ITU" von Stella Mwangi
​
"Showdown"-Playlist: ab dem 6. Juli dauerhaft auf Just Dance+ verfügbar.
"Slo Mo" von Chanel

"Trenulețul" von Advahov Brothers und Zdob și Zdub

"Give That Wolf a Banana" von Subwoolfer

Überraschungs-Track
Die Season 2 endet am 12. Juli. Just Dance 2023 Edition ist ab sofort für Switch, PlayStation 5 und Xbox Series X|S erhältlich. ​Die neuesten Informationen zu Just Dance 2023 Edition oder der Just Dance Controller App gibt es unter:  justdancegame.com.
Mehr über den Eurovision Song Contest:
​The Eurovision Song Contest is the world's largest live music event. It is organized annually by the European Broadcasting Union (EBU), the world's foremost alliance of public service media. The competition, in which participating member broadcasters of the EBU send a new song to represent their nation, has taken place every year since 1956 except in 2020 when the event was cancelled due to the coronavirus pandemic. 27 countries have won the competition at least once.
​
​37 broadcasters will take part in the 2023 Eurovision Song Contest in Liverpool. The BBC is hosting on Ukraine's behalf following their win in Turin in 2022 with Kalush Orchestra's "Stefania."
​
​You can also listen to "Te Deum Eurovision Theme (Just Dance Remix)," a new electro-dance version of the iconic Prelude to Marc-Antoine Charpentier's "Te Deum," which has opened the Eurovision Song Contest for more than sixty years on all music streaming platforms.
​
​​​Just Dance kann auf Twitter unter @justdancegame oder dem Hashtag #JustDance gefunden werden.
​
​​​Deutscher Just Dance-Kanal auf Instagram: @justdance_de
​​Deutscher Just Dance-Kanal auf Tik Tok: @justdance_de
​
​Angebote zu Ubisoft Spielen gibt es im offiziellen Ubisoft Store unter: https://store.ubi.com/de/home
---